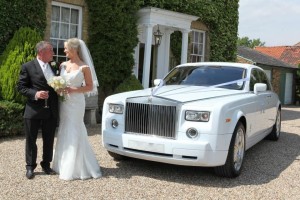 We have over 50 years combined experience in the wedding car hire business. If you're looking for wedding car hire in Leeds, we will be glad to be of service. We believe that our wedding car hire in Leeds is the best.  We offer a friendly yet professional service. We know that no two weddings are the same. We cover every type of wedding ceremony from Traditional white wedding, Church wedding, Double wedding, Military wedding, Mid-week and weekend wedding, Destination wedding, gay and lesbian wedding, Mixed wedding, Civil ceremony, Registry Office and Reception office wedding.
We are full experienced in the English, Jewish and Asian cultures. To us every wedding is an individual and a very special occasion and we take enormous pride in the service we offer.
Unlike other wedding car hire companies in Leeds, we are not a franchise or a broker. Our Leeds wedding car chauffeur will arrive 30 minutes early to the arranged collection time, and we always do a practice run the night before to ensure there are no road works or potential problems.
We can adorn the Leeds wedding vehicles with flowers, ribbons and door bows of your color choice. We provide a professional yet personal service. Our drivers are smart and courteous, and our top of the range Mercedes, Bentley and Rolls Royce vehicles are impeccable. You are more than welcome to come and see our cars for yourself before the big day.
Complimentary bubbly is provided for full wedding packages, and we always liaise with your photographer to ensure the best images are captured. We cover every fine detail to make your experience with us truly exceptional. We even carry large umbrellas should the weather changes. We are also available for the honeymoon transfer to and from all UK hotels and airports, ensuring that your honeymoon starts and ends with the same luxury enjoyed during your wedding.